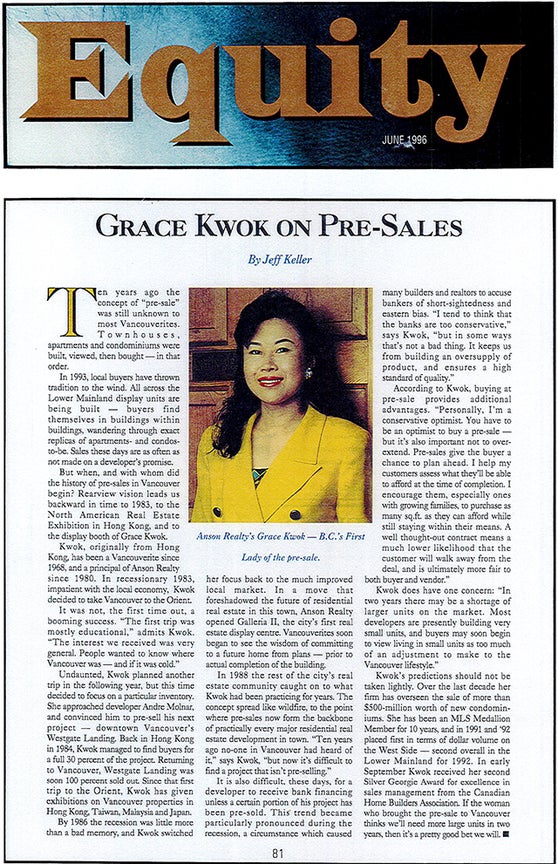 Jeff Keller | Equity | July 1996
Ten years ago the concept of "pre-sale" was still unknown to most Vancouverites. Townhouses apartments and condominiums were built, viewed, then bought - in that order.
In 1993, local buyers have thrown tradition to the wind. All across the Lower Mainland display units are being built - buyers find themselves in buildings within buildings, wandering through exact replicas of apartments- and condos­co-be. Sales these days are as often as not made on a developer's promise.
But when, and with whom did the history of pre-sales in Vancouver begin? Rearview vision leads us backward in time to 1983, to the North American Real Estate Exhibition in Hong Kong, and to the display booth of Grace Kwok.
Kwok, originally from Hong Kong, has been a Vancouverite since 1968, and a principal of Anson Realty since 1980. In recessionary 1983, impatient with the local economy, Kwok decided to take Vancouver to the Orient.
It was not, the first time out, a booming success. "The first trip was mostly educational," admits Kwok. "The interest we received was very general. People wanted to know where Vancouver was - and if it was cold."
Undaunted, Kwok planned another trip in the following year, but this time decided to focus on a particular inventory. She approached developer Andre Molnar, and convinced him to pre-sell his next project - downtown Vancouver's Westgate Landing. Back in Hong Kong in 1984, Kwok managed to find buyers for a full 30 percent of the project. Returning to Vancouver, Westgate Landing was soon 100 percent sold out. Since that first trip to the Orient, Kwok has given exhibitions on Vancouver properties in Hong Kong, Taiwan, Malaysia and Japan.
DOWNLOAD ARTICLE PDF